DoE request over Bombardier Belfast generating station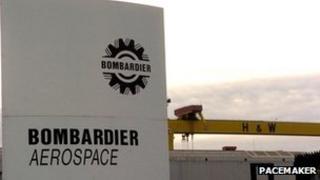 The Department of the Environment (DoE) has asked aerospace firm Bombardier for more information on its plans to build a generating station at the Harbour Estate.
The station would provide electricity for its main factory in east Belfast.
The proposed plant would convert millions of tonnes of rubbish from Belfast and the surrounding area into heat and power.
It is to use a technology known as gasification.
The surplus power generated will be sold into the National Grid.
Gasification plants operate by heating waste to produce a gas that is used to generate steam.
The steam then drives a turbine that creates electricity.
The raw material used in the process would be commercial, industrial and municipal waste which would be taken by road to the site - about 50 lorry loads per day.
According to the planning application the closest residents live about a kilometre from the location.
The plant would use about 250,000 tonnes of waste per year.
The DoE has requested more environmental information from the company about its plans.
The Northern Ireland Tourist Board has said that while the plant appears to be in the proximity of the new Titanic building, there is not any perceived risk of of impact from the proposed development.
Bombardier submitted the plans to build the station in December of last year. It wants to reduce its costs by generating its own energy.
Friends of the Earth is opposed to the plan.
The group's James Orr said: "Burning material is a very primitive, very antiquated, very old-fashioned approach."
A Bombardier spokesperson said: "We are a large energy user and expect our energy requirements to increase following recent major investments.
"Energy costs in Northern Ireland are more than three times higher than those of our sister sites in North America, and significantly higher than those of other competitors.
"To protect our competitiveness we have explored different energy options including wind, geothermal and solar technologies, but found these not to be economically viable at our site.
"The proposed plant would use the latest gasification technology to produce the energy required.
"This technology is a 'best available technique', as set out under legislation, and is used in several European countries. It offers lower energy costs and a reduced carbon footprint, and would also reduce the amount of waste going to landfill.
"The plant would be owned and operated by an energy consortium. We believe this proposed plant is the optimum solution to help us secure both a sustainable and competitive energy source that would protect our business in the long term."