Séan Neeson to stand down from Carrickfergus Council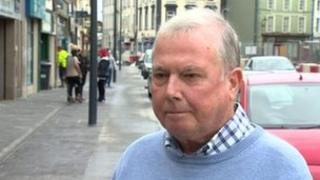 The former leader of the Alliance Party, Séan Neeson, is to stand down as a member of Carrickfergus Borough Council at the end of the month.
The 67-year-old is the longest serving member of the council, having been first elected in 1977.
He led Alliance from 1998 to 2001, during the early years of Stormont's power-sharing assembly at Stormont.
Announcing his resignation, Mr Neeson said: "I hope that I will be remembered as a good constituency worker."
In a statement released by his party, he added: "I have thoroughly enjoyed my time on Carrickfergus council. It has been an honour to have served my constituents for so long.
"It has been a very rewarding experience and I am glad to see the progress that has been made in politics over the past four decades."
'Shared future'
Mr Neeson is a former teacher who taught at St Comgall's High School in Larne for 14 years.
He served as mayor of Carrickfergus Borough Council from 1993/94.
He said he was "extremely proud to have represented Alliance on the council where I have worked to progress a shared future".
David Ford, who succeeded him as Alliance leader in 2001, paid tribute to Mr Neeson for his "outstanding work in Carrickfergus and his contribution to the wider community in Northern Ireland".
"He has played such a major role in the Alliance Party and politics in general since the 1970s.
"He has been one of the most positive voices for peace, particularly during the darkest days of the Troubles," Mr Ford said.