Meeting over threat to 300 DVA jobs in Coleraine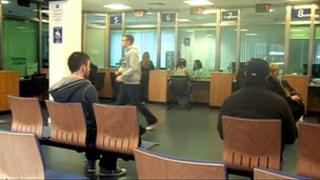 A public meeting has been held to discuss the threat to 300 jobs at the Driver and Vehicle Agency in NI.
About 100 people, including representatives from political parties, were at the meeting in Coleraine on Thursday evening.
A public consultation on whether services should be centralised in Swansea, Wales, is to end next week.
The union, Nipsa, said as well as the jobs threat, the Coleraine closure would impact on efficiency.
Union official Ryan McKinney said: "The decision to close this is going to impact on ordinary people.
"There has already been clear evidence in Scotland that ordinary purchase of vehicles and changing tax discs is having a delay of up to six weeks. That is unacceptable. Here in Coleraine, they can do it in less than five days."
North Antrim MP Ian Paisley jr invited the union and local politicians to address a Commons committee on the issue.
He said Transport Minister Stephen Hammond needed to listen.
"I think we've come up tonight with a strategy to coordinate with the select committee in Westminster and now it's up to Mr Hammond," he said.
"We intend to nail him on this - get him to at least answer the questions that he's run away from and shirked his responsibilities on in Northern Ireland.
"He's a minister for the whole of the United Kingdom and his jurisdiction doesn't end at Stranraer or Swansea."