Developer Michael Taggart seeks legal aid in Ulster Bank case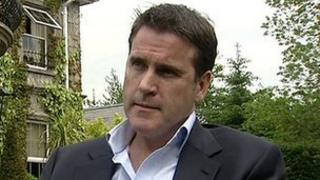 Housing developer Michael Taggart has said he can no longer afford to pay for his legal battle with Ulster Bank and will seek legal aid.
He is suing the bank for alleged negligence he says contributed to the collapse of the Taggart Group in 2008.
The case was due to be heard at the High Court in Belfast on Monday before it emerged that Mr Taggart had dismissed his legal team.
He said if he could not get legal aid he would become a personal litigant.
Mr Taggart told the judge that the analysis of a large number of recently released documents would set a budget beyond what he and his brother John could afford.
He said the case, which has been running for five years, had "consumed our lives".
Mr Taggart added that he was determined to pursue the matter as he has three children under five and that it was now a fight "to protect our home and their home".
Ulster Bank is pursuing a linked action against the Taggarts in an attempt to force repayment of more than £8m in personally guaranteed borrowings.
Mr Taggart's former solicitor told the court that, while a discussion about funding had taken place, he could not tell the court that lack of funds was the reason the Taggarts had dismissed their legal team.
Stephen Shaw QC, for the bank, went further saying that Mr Taggart's claim that he could not afford to proceed was "outrageous" and an insult to the judge's intelligence.
"Again and again as the moment of reality approaches some stunt is pulled," he added.
He said that the document discovery exercise which Mr Taggart had found so expensive was very largely paid for by the bank.
He urged Mr Justice Burgess not to allow the application for legal aid, saying Mr Taggart could argue the case as a personal litigant after a few days' delay.
The judge will rule on Tuesday on whether to allow the application for legal aid. He said: "This is not going away for any length of time, whatever happens."
The Taggart Group was one of Northern Ireland's largest housebuilders and also had operations in England and the Republic of Ireland.
It collapsed at the start of the property crash in 2008 costing its creditors around £300m.