Peer backs standards body for Northern Ireland politicians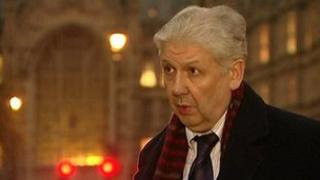 The chairman of an influential government committee, Lord Bew, has called for a regional body to be set up in Northern Ireland to advise Stormont on ethical standards.
The Committee on Standards in Public Life is an independent body which advises the government.
Lord Bew took up his post as chair of the committee earlier this month.
He said one of the issues a regional body could look at was that of MLAs who employ relatives to work for them.
Under the current rules, MPs in the House of Commons can no longer hire more than one family member.
Lord Bew, who for a time acted as an adviser to former First Minister Lord Trimble, said he did not see why public office holders here should operate differently than in the rest of the UK.
Speaking for the first time in his new role he said: "I think I would like to see a Committee on Standards in Public Life in Northern Ireland.
"There doesn't seem to be a good reason why public office holders - I'm not just talking about assembly members - should operate in a different context to the rest of the UK."
Almost a third of MLAs at Stormont employ a family member - that is about the same ratio as the Welsh National Assembly.
The practice varies between parties - for example, 23 out of 38 DUP MLAs (61%) employ a relative. Sinn Féin and the Green Party do not hire any.
Figures for the other three parties are: SDLP 21%; Alliance 25%; UUP 23%. The Traditional Unionist Voice (TUV) leader Jim Allister employs his daughter.
According to the current register of members' interests at Stormont, five MLAs employ more than one relative.
They are Ian McCrea, Adrian McQuillan, George Robinson and Robin Newton of the DUP, and Pat Ramsay (SDLP).
Lord Bew said that on this issue, Northern Ireland was outside the terms of a London debate.
"The position that has been arrived at is that one (family employee) is satisfactory. There is no debate in London that members of parliament should actually have more than one member of their family on their staff... and in that sense Northern Ireland is in a different place on this issue."
Lord Bew was appointed as a non-party-political peer in February 2007 following his contributions to the Good Friday Agreement.