Belfast pink pillow case accused's bail bid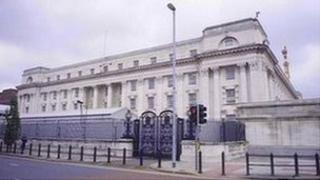 A judge has asked for full details of medical care provided to a man accused of robbing a Belfast off-licence with a pink pillowcase over his head.
The judge directed authorities to provide a report after hearing Michael Cassidy was a paranoid schizophrenic.
Mr Cassidy, 19, of Shaftesbury Avenue, Belfast, denies charges connected to the alleged hold-up of premises on Cromac Street.
His bail application was adjourned until the report was provided.
The judge said he had to balance the protection of shop-owners from raiders high on drugs against the need to ensure proper medical attention in custody for the accused.
Mr Cassidy is charged with robbing the off-licence of cash, bottles of vodka and beer.
He faces further counts of having an offensive weapon, namely a baseball bat, with intent to commit robbery, a separate attempted theft and possession of cannabis resin.
'Demanded money'
Mr Cassidy denies being the man seen in CCTV images published by police following the raid on 22 April.
According to the prosecution, he allegedly demanded money after going into the shop and pulling the pillowcase over his head.
The robber then left on a bicycle, riding off towards the Gasworks site while still being in view of the cameras.
"He continually drops items, falls over and appears to be highly intoxicated or under the influence," a prosecuting lawyer said.
The court also heard that the accused was on anti-psychotic medication and believed to be suffering from paranoid schizophrenia.
In his assessment of the case, the judge said: "One issue is the safety of people operating shops at night-time in Belfast - they don't want to be held-up by people with baseball bats who are high on drugs.
"The other is that people in detention have access to proper medical attention."
Adjourning the bail application, the judge requested details on the diagnosis and dosages of medicine being provided to Cassidy while in custody.
Mr Justice Stephens added: "I direct that a report from Hydebank (be provided) in relation to the medical care and attention he is receiving."