Hazelwood Integrated College dispute almost resolved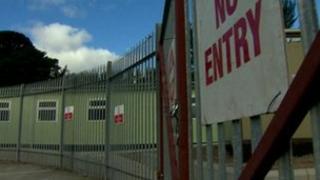 The dispute over locked classrooms at Hazelwood Integrated College in Belfast is close to being resolved after negotiations with the Belfast education board and the Department of Education.
It has been agreed that the 14 mobile classrooms at the centre of the dispute can begin to be used from 30 September.
Students have been unable to use the classrooms since the start of the school term earlier this month.
The units were padlocked in a dispute over the school's lease for the land.
In a statement, the school said the matter had been brought to a "satisfactory conclusion".
"Outstanding work to ensure health and safety compliance is nearing completion," the statement added.
The Belfast Education and Library Board (BELB) said: "The mobile classrooms can be used after the completion of building and services work, and receipt of the necessary health and safety certificates.
"The school will have access to the building to complete the work.
"After the necessary certificates have been issued, and the lease approved by the Department of Education and the BELB, the school will be able to access the mobiles."
The ongoing costs of maintenance, lighting and heating for the mobile classrooms will be paid for from the school's existing budget.
The new mobile units were installed to accommodate increases in student numbers at the school.
On the first day of term, 3 September, principal Kathleen Gormley sent 200 sixth form pupils home at lunchtime, due to the shortage of classroom accommodation.