Child beauty pageant goes ahead at Monaghan venue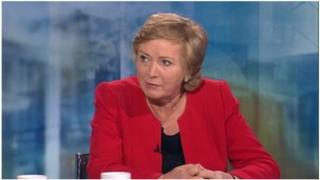 A controversial child beauty contest has taken place in County Monaghan after a Dublin hotel cancelled the event, amid criticism that such events inappropriately sexualise children.
Up to 50 children took part in the US-style event organised by Universal Royalty.
It was to have been held in the Bracken Court Hotel, Balbriggan.
But it was cancelled two days ago as the hotel said it was "not in keeping" with its family ethos.
Irish Minister of Children Frances Fitzgerald welcomed the hotel's decision to cancel.
Speaking to RTE Radio on Friday, Ms Fitzgerald said such pageants were "an inappropriate sexualisation of very young children".
"Obviously all children dress up, play dressing up — that's quite a contrast to the sort of dressing up that we see in these pageants.
"The amount of heavy makeup, the high shoes, the frilly dresses —inappropriate on a child of three, or four or five," she said.
Organisers criticised the hotel for cancelling.
The event was re-arranged to take place in a pub and restaurant premises in Castleblayney.