Vernon Coaker criticises coalition's "semi-detached approach" to Northern Ireland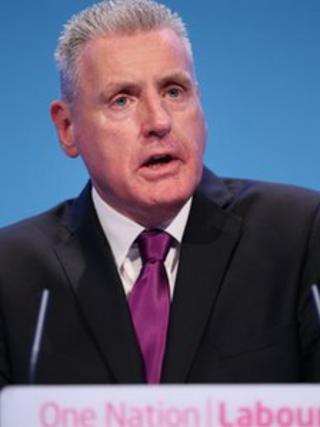 The coalition government is taking "a semi-detached approach" to tackling serious issues in Northern Ireland, the shadow secretary of state has said.
Vernon Coaker made his remarks at the Labour Party conference in Brighton.
He said he was worried the government "isn't paying proper attention to what's happening in Northern Ireland".
"I'm worried that David Cameron and Theresa Villiers don't understand what needs to happen to resolve some of these critical issues," he added.
"And I'm worried that, with their semi-detached approach, they are taking what we have for granted."
Mr Coaker also criticised the approach taken by Secretary of State Theresa Villiers to the Haass talks that began last week in Belfast.
'Final say'
The Labour MP said: "I'm disappointed with the UK government's approach. The secretary of state hasn't fully engaged with the talks.
"And I'm surprised that despite this she still wants the final say on what the outcome should be."
The shadow cabinet member added: "I'm afraid it doesn't work like that in Northern Ireland. We achieve most when we involve many. They need to understand the job is not finished."
Mr Coaker also had words for local politicians.
He said: "Nationalists and republicans need to show that they accept Northern Ireland is part of the United Kingdom while the majority of people who live there want it to be. That's what they signed up for."
He added: "Unionists and loyalists need to show that they acknowledge that Northern Ireland is Irish too. It must be shared between everyone."
'Political leadership'
On Monday, Ms Villiers was in Dublin meeting the Tánaiste (Irish deputy prime minister) Eamon Gilmore for talks about Northern Ireland, including the Haass negotiations.
The secretary of state said it was a very smart move and a real step forward to invite the US diplomat to chair the inter-party talks, but she warned politicians they had to work towards a positive outcome.
"There won't be a solution unless there is the will to deliver one from Northern Ireland's political leadership," Ms Villiers said.