NIHE chief executive Dr John McPeake is to retire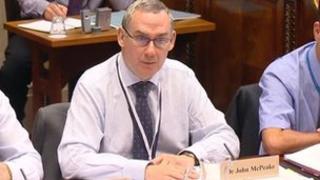 The chief executive of the Northern Ireland Housing Executive (NIHE) is to retire.
Dr John McPeake has held the top post since 2011.
In a statement, the NIHE said he had recently sought the approval of board members to retire later this year and they have agreed.
During his 31-year career in the social housing body, Dr McPeake held a number of posts including head of research.
The NIHE said the date for his retirement is "likely to be at the end of the financial year".