'In memory of Ben' housebuilders' Kenya trip disappointment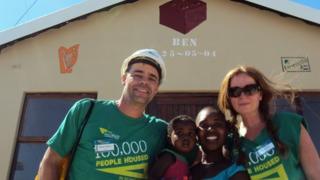 Helping those in need in Africa has become Kitty and Warren Kearns way of paying tribute to the short life of their son Ben.
So the postponement of a housebuilding trip to Kenya was a particular disappointment for the couple.
The trip was called off after the massacre of at least 67 people in the Westgate shopping mall in Nairobi.
Kenya's Red Cross said 61 people remain unaccounted for.
Kitty said they knew there was a problem when news broke of the suspected militant attack in the Kenyan capital.
"We all realised there was a good chance the trip wouldn't go ahead," she said.
"There's no point in going and living in fear for the week."
Her disappointment soon faded, however.
Partly because the trip will be rescheduled as soon as security considerations allow, but mostly because of Kitty and Warren's intensely personal reasons for their involvement with the trip organisers, the Niall Mellon Township Trust.
Their seven-year-old son Ben died last year from chordoma, a very rare cancer that affects the spine and brain.
"Just before Ben died he used to talk about the poor children in Africa," said Kitty, from Ballyarnett on the Irish border between Counties Londonderry and Donegal.
"He played cards and he had some winnings in his money box - 20 pences and stupid things - and he used to say 'whenever I die, whenever I go to heaven, I want this money to go to the poor children in Africa'.
"After he died last year we thought, actually there is something we can do about this. We had seen the Niall Mellon team on TV some years ago but the children were too small for us to do anything.
Permanent memorial
"But we thought last year, you know what, this would be perfectly right, the right time to do this and this will be a fitting tribute to our son."
Their first trip was to Cape Town in South Africa.
And they were able to mark it with a permanent memorial to Ben.
"We were working on a house that was to be handed over to a lady who was moving out of a shack.
"Whenever the foreman heard why we had gone on the trip he dedicated the house to Ben, and he stencilled Ben's name and his date of birth on to the lady's house. That was a nice gesture."
Ben had been diagnosed with chordoma in 2007 and underwent surgery and treatment in Germany, Switzerland and at Great Ormond Street Hospital in London.
"It's a very, very rare type of cancer, it's not hereditary or anything," said Kitty.
"We did lots of online research, and joined a group in America - the Chordoma Foundation - and took Ben for treatment abroad because none was available at home at the time."
They also tried trial drugs, but the cancer was terminal and Ben died on 2 January 2012.
Kitty and Warren have five other children, ranging in age from 23 to 16, and she expects they will get involved with charity work as well.
'Grounding experience'
"They really loved what we did last year, and to be honest I think they were probably quite proud of what we had done.
"Our two oldest sons are medical students and they would like to go as medics - one tried to get on this year's trip but he was just too late. I would say they will all do something like this in the future.
"It's a very, very grounding experience because you just realise there's a lot more to life than the next PlayStation game or all these stupid things we don't need. We've all got far too much."
The work that was to have been done by the Niall Mellon Township Trust team in Kenya next month will still be completed by local building workers.
Kitty said: "I think the people who were going on the trip weren't too worried because we have been on the trips before and we know that our safety would have been their number one priority.
"But I think that people's families were more worried than the people themselves.
"What is very disappointing is that you collect so much stuff, so many bits and pieces that you know will be so useful whenever you get there, and you feel for the people who were supposed to benefit so much.
"They will still benefit because the work is going to go ahead, local Kenyans will be employed to do the work, but that's not the full picture.
"You see these people before and you've seen the extremes of what they had and what they've been given by the charity's work - it's an amazing feeling, you couldn't put it into words, you have to be there to feel it.
'No experience'
"But it's only postponed and we will go again. There'll probably be a lot more fundraising but sure, you do what you do.
"Myself and Warren did our first trip last year having never done anything like this before, and we decided after just one day that we were definitely going to do it again.
"Warren is a contractor and he had no problem doing whatever he was asked to do but I had no experience.
"They said to me on the first day 'what can you do' and I said I don't think I can do anything, but I'll try anything you ask me to, so I did painting, and cleaning and sweeping and moving bricks in a wheelbarrow.
"This year, I had volunteered for the block-laying squad, whatever that was going to mean. I thought it was going to be a good workout for my week but I'll have to think of something else!
"We knew nobody last year - there were 598 people and us two, and we knew absolutely nobody.
"But that only lasted as long as the flight - you weren't allocated seats beside your partner or friends, you were allocated wherever, so by the time the 11 hours were over you had made friends.
"And you just made a point every day of going to the building site and not sitting beside your partner, but sitting beside somebody different to hear everybody else's story.
"It was just fantastic, I couldn't recommend it enough it was just brilliant."