Mark H Durkan says promotion came 'out of the blue'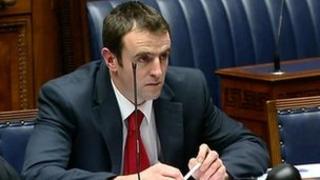 He is the executive minister who admitted to "panicking" before facing his first Question Time in the Northern Ireland Assembly.
Mark H Durkan is the opposite of the ego-driven modern politician who sees the dispatch box as an extension of trench warfare.
In fact, in a world where any apparent weakness is seized upon by opponents, his readiness to admit to his limitations could be viewed by some as foolish.
But he believes the public appreciate such honesty and said he has no intention of changing.
The 35-year-old nephew of the former SDLP leader of the same name was a surprise choice to replace Alex Attwood as environment minister.
'Challenge'
Mr Durkan tells The View on BBC One Northern Ireland: "It did come out of the blue. I got a phone call from the party leader (Alasdair McDonnell) late enough one evening. He said to me he'd been considering offering me the post and he offered it to me there and then.
"I took a couple of days to think about before telling him, yeah, I would accept it. (It's) a huge challenge but it's also a huge opportunity and I didn't believe it was something I could say no to."
He admits to being as surprised as everyone else. After all the West Tyrone MLA Joe Byrne - a close ally of Mr McDonnell - had been hotly tipped for the post.
Sources said senior party members opposed the idea and in the end the Foyle MLA was chosen instead - possibly because in a party known for factionalism he is liked by almost everyone.
It means he now has to drive through the formation of 11 new 'super councils' as part of the review of public administration, a task he called "a huge challenge".
He is also the minister in charge of planning and he admits to the programme he is not finding the role to be easy.
"For many years as a councillor, and for the last couple as an MLA, I've always taken an interest in planning," he said.
'Anxiety'
"I'd be arguing something maybe on behalf of an applicant or maybe on behalf of an objector against a development and I enjoyed doing that. But now I'm the man in the middle and having to make the judgement and it's not quite as easy unfortunately."
The cameras follow him in the ministerial car on the way to his first executive meeting. But it was the prospect of his first Question Time in the Assembly which, he said, caused him "quite a degree of anxiety" and lost sleep.
In the end - apart from telling one MLA inquisitor that he was "lost" and would write back to him - Mr Durkan believes he survived "relatively unscathed".
The political commentator Fionnuala O'Connor is not convinced he is suited for the job.
"It's (his appointment) got more to do with recent manoeuvrings inside the party than it has to do with the intrinsic merits of Mark H Durkan," she said.
"You would worry about him in, say, the new Question Time which lit up this week when Peter Robinson went for Jim Allister and subsequently perhaps regretted that. Its a different atmosphere, people are going to have to be fast on their feet now and I don't think he's that."
But Mark H Durkan denies he is too nice for the job claiming he can, if it's required, be just as combative as the man he replaced, Alex Attwood.
He said: "Alex is extremely combative as you know. He's a brilliant minister and I'm very lucky to have Alex beside me now and I have Alex's ear. He's there to support me and give me guidance on issues and I have sought it and I will seek it again.
"I can be combative when necessary and I will be combative when necessary, when I think I need to be combative to get something done that I believe is the right thing for the people of Northern Ireland."
The View will be broadcast on BBC1 NI at 22:35 BST.