Lost Armagh weather probe washes up on beach in Wales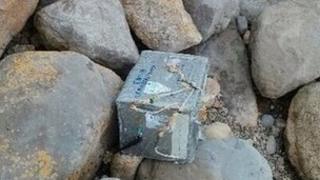 A weather probe, launched by eight young people in County Armagh, has washed up on a Welsh beach weeks after it went missing.
Infinity 1 was sent up to the edge of Earth's atmosphere by a balloon from Navan Fort on 22 August.
Despite attempts to track its trajectory, when the balloon popped the silver box was declared lost at sea.
On board it was carrying a payload capable of measuring things like light levels, temperature and humidity.
Daniel O'Reilly, an education officer in Armagh, helped the eight secondary school pupils put it together.
The group spent the days searching for the probe in Dundalk Bay, which was close to its last GPS co-ordinates.
The probe was part of project aimed at young people who were interested in IT.
On 12 September, Mr O'Reilly tweeted "guess what turned up on a beach in Wales today" along with a photo of the washed up box on a rocky beach.
"We made such an effort, we searched all over Dundalk Bay and had given up completely," Daniel told the BBC.
"We assumed it had been pulled under water by the weight of the parachute".
The box had information, including a telephone number, written across it in case it was found.
Finally they received a phone call from a man who had found it on the beach.
The man, who is from Liverpool, was holidaying in Wales when he came across the object and contacted the owners.
"Everything is still intact, we're very surprised" Mr O'Reilly said.
The team will now spend the next week dissecting the information the probe has recorded, including video footage of the atmosphere above Northern Ireland.
Despite the set-back, organisers say they're already planning Infinity 2.