Man in hospital after Seaforde, County Down, bus crash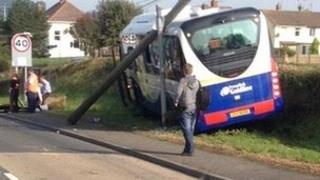 A man is being treated in hospital after a bus crash in County Down.
The accident happened on the Newcastle Road in Seaforde on Saturday morning.
It is understood the bus left the road and crashed into an electricity pole. The man is described as being in a stable condition in hospital.
The road remains closed and police have advised people travelling between Belfast and Newcastle to go via Downpatrick.