Man charged over Athlone sex attack on girls aged six and nine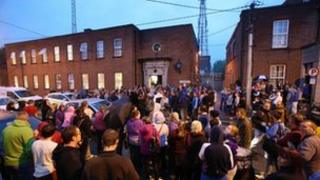 A 30-year-old man is due to appear in court later charged with raping two young girls, aged six and nine, in the Republic of Ireland.
The children were attending a birthday party in Athlone on Saturday afternoon.
It is understood they were lured away and attacked.
A crowd of more than 100 people gathered outside the garda (police) station in Athlone on Monday evening and senior police officers asked them to leave.
The children were treated in hospital but are now back with their families.
The man is due to appear at Longford district court on Tuesday