Mark Durkan rules out council flag regulations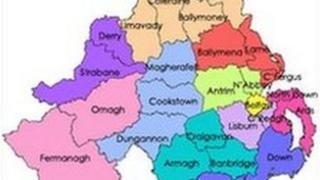 The environment minister has told the assembly he is not minded to introduce regulations on the flying of flags on council buildings.
Mark Durkan was responding to the debate on the second stage of a bill which aims to form the legislative basis for reforming and reorganising local government.
He addressed calls from the Alliance Party for the bill to include more specific details on when flags should fly over council offices.
"This (bill) is dealing with improving services to local people and improving local government, I don't see any merit in me attaching a regulation of flag flying to do that," the minister said.
The Local Government Bill passed its second reading after a lengthy debate with 64 voting for and 12 against.
The bill seeks to transfer a range of functions from central government and to end the practice of "double-jobbing" by placing a bar on MLAs, MPs and MEPs serving as councillors.
Sinn Fein's Ian Milne further explained the bill would enable the creation of the new 11 super councils and would cater for better partnership arrangements between councils, departments and the executive.
He said he had served on Magherafelt District Council and this had given him "first-hand experience of the frustrations within local communities at the lack of delivery and support for citizens".
The DUP's Peter Weir said the idea that transferring certain functions to local government would provide an extra burden on ratepayers was "erroneous".
The SDLP leader Alasdair McDonnell said there were councils where some parties used their voting strength "to get their way" and "excluded others from a proper input" and that this bill would seek to make local government more "effective and efficient".
Basil McCrea, of NI21, said all the proposals in the bill had "orange and green politics running through them".
"Not one person has made a good, strong case that the public will be significantly better off in terms of outcomes, finance or representation under this model of reform," he added.
"This bill is wrong in principle, it will not improve things for the people of Northern Ireland, it will not tackle the proper issues and it is not the right way forward."
Stewart Dickson of Alliance said the existing 26 councils were "tired and no longer fit for purpose" and he was calling for a modern local government system which was "not bogged down by the failures" of those in central government.
TUV leader Jim Allister said the assembly was discussing a bill about how local government should function without knowing if it had any chance of being in law before local elections next May.
Ulster Unionist leader Mike Nesbitt spoke in his role as chairman of the OFMDFM Committee.
He said its members were particularly interested in the part of the bill dealing with the code of conduct of councillors as it was envisaged that complaints would be policed by the commissioner for complaints.