Vomiting bug cruise ship Boudicca leaves Belfast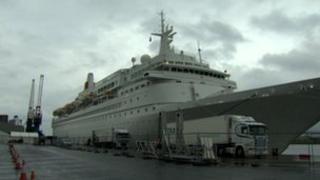 A cruise ship that was hit with an outbreak of a "gastroenteritis-type illness" has left Belfast.
Ninety-eight passengers out of 763 on board were affected.
The Fred Olsen cruise liner, the Boudicca, left Belfast on Monday 23 September for a 10-night Scandinavian cities cruise.
It returned on Thursday to undergo a sanitation and cleaning programme before it sailed again.
The Boudicca has now left for a cruise to Portugal and the Canary Islands.
Richard Girvan was booked to travel on the cruise.
He said he was looking forward to his holiday with "trepidation" after discovering that passengers had been ill.
"We were looking forward to it and to get a letter two days ago saying that you're going on your holiday and we hope you enjoy it, but there's a possibility that you might get ill on the boat," he said.
"If you do get ill, you're confined to your room and all your food will be brought to your room, so you're not able to enjoy anything.
"Obviously you have your concerns of illness, but all we can do is try and take all the precautions necessary and put up with the inconvenience of facilities being closed on the boat for the first few days until they're absolutely certain the virus is gone.
"I spoke to the doctor on Wednesday and he told me to take some tablets for vomiting and diarrhoea."
A spokesperson from the Public Health Agency (PHA) said medical staff on the ship had kept the PHA and Belfast City Council port health officers informed of the situation.