Hammer gang steal pizza delivery in Lisburn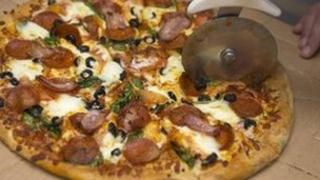 A delivery driver in County Antrim has been robbed by a hammer-wielding gang, who made off with his pizzas.
The driver was approached by the three men at Llewellyn Avenue, Lisburn, some time between 02:20 BST and 02:45 BST on Sunday.
They did not steal money, but made off with the food order. The driver was not injured, however, he was left very badly shaken.
Police have appealed for information.