Man 'picked up cannabis consignment to pay £700 drug debt'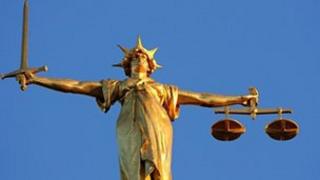 A man allegedly agreed to collect £400,000 worth of herbal cannabis smuggled into Northern Ireland to pay off a £700 drug debt, the High Court has been told.
David McCaughan, of Ghent Place, Belfast, picked up the consignment from a lorry driver in Belfast after it was shipped from Scotland, a judge heard.
Mr McCaughan's lawyer said he had admitted his involvement.
But he added that he was only a "runner" for other more senior figures.
Mr McCaughan, 57, was one of three men arrested in a police operation in April.
He faces charges of conspiracy to supply Class B drugs and possessing herbal cannabis with intent to supply.
Five boxes of cannabis were seized after being moved from the lorry into a waiting Volkswagen Passat car at Boucher Retail Park.
According to the prosecution, the car belonged to Mr McCaughan.
Twenty kilos (44lb) of the drugs, with an estimated street value of £400,000, was recovered in total.
Arthritic condition
Telephone evidence allegedly links the three suspects to the case.
As Mr McCaughan applied for bail, defence counsel said his client had made full admissions and provided police with details.
"He suffers from an arthritic condition and started to smoke cannabis years ago and got into debt," the defence lawyer said.
"He owed £700 to one of the gentlemen involved in this enterprise and he was asked to go and do this message to pay for that debt. He did that."
The barrister added that it was accepted by Mr McCaughan that he was facing a jail sentence.
But he contended there was no risk of any reoffending.
"The police attitude is that in the hierarchy he is simply a runner, performing a message on the day," the defence lawyer said.
"There is no suggestion he himself is involved in the drugs trade."
However, Mr Justice Burgess adjourned the bail application for another judge to decide whether there had been enough of a change of circumstances.