£19m in fines 'unpaid' says audit office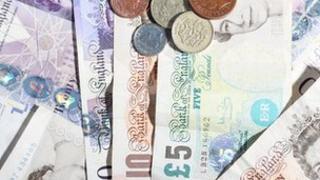 Fines totalling more than £19m, for offences including speeding and illegal parking, have not been paid, the Northern Ireland Audit Office has said.
A report published on Thursday said £6.5m of this will never be recovered.
The auditor general said it undermined the credibility of the justice system in using fines to deter crime.
The report also raises concern about possible fraud by police officers, who serve court warrants and collect cash payments.
More than 100,000 parking tickets are issued across Northern Ireland each year, but many of the fines are never paid.
It is the same for a range of other offences, including speeding, and confiscation orders imposed by the courts.
This is the first time the level of outstanding debt has been made public and the Audit Office is not impressed.
Auditor General Kieran Donnelly describes the outstanding sum of £19.3m at the end of March last year as "extremely high", noting that the annual fine income is £13.8m.
Some of the unpaid fines date back to April 1981.
The audit report says the system for collecting the debt is "archaic and no longer fit for purpose", and also raises concerns that it could make it possible for police officers to keep money they collect.
In England and Wales, there are civilian fine collectors, but in Northern Ireland it is the responsibility of the police to serve warrants and collect payments.
Mr Donnelly said he was "unable to find sufficient evidence to substantiate that material fraud had not occurred".
He added: "There is an inherent risk in any cash collection system, which is difficult to eliminate. My concern is that warrants could be collected but the cash and details of the fines not recorded."
The auditor general reveals that his office has been notified of a suspected fraud in this area.
Chief Superintendent Chris Noble told the BBC: "There is one investigation that we identified ourselves and are taking forward where we have identified some potential irregularities in terms of how money has been handled.
"Clearly our position would be that the PSNI handling thousands of cash transactions across dozens of sites every year is not an effective use of police resources and leaves us open to allegations of impropriety, although the audit report did not find that in practice."
The audit report notes that the Criminal Justice Inspector (CJI) raised concerns about the system for collecting fines in reports dating back to 2010 and 2012.
The CJI called on the Department of Justice to introduce a tougher enforcement process to make people pay their fines, particularly prolific offenders who choose to go to jail for a few days instead of paying.
"I am disappointed that more progress has not been made since these issues were first brought to light," Kieran Donnelly adds.
He welcomes the fact that the Department of Justice, the Northern Ireland Courts and Tribunal Service, the police and probation board have established a Fine Collection Programme Board to tackle the issues highlighted in the CJI reports and aims to modernise the systems for collecting fines and penalties by 2015.
But he adds that "greater urgency is needed in reforming fine default systems, including reducing its vulnerability to fraud or error".
In a statement, a spokesman for Justice Minister David Ford said it was not possible to comment on the report as it may be the subject of a future Public Accounts Committee hearing.
The Department of Justice is attempting to introduce new legislation to create a new civilian fine enforcement service, similar to the system in England and Wales.
It's intended that the new service, which could be operational in 2015, will have a range of powers to collect and enforce fines including attachment from earnings and deductions from benefits.