Council crackdown on shops selling cigarette to U-18s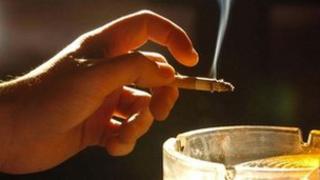 More than a third of shops in Belfast, checked by city council officials, have illegally sold cigarettes to under-18s.
The test purchases were made by teenagers, aged 13 and 14, over a three-year period from April 2010 to March 2013.
A total of 172 trial purchases were made and, on 66 occasions, shops sold the children cigarettes.
The checks resulted in 43 prosecutions and premises fined about £500.
A draft bill before the assembly would give greater powers to the authorities to deal with shops which break the law.
Brenda McLaughlin, who runs Fountain News in the centre of Belfast, said she regularly has to turn away teenagers who are trying to buy cigarettes at weekends.
"Sometimes they can be rude but you just have to be patient," she said.
"My view is that if they look to be aged under 21, I ask them for identification. If they don't like it, they can go elsewhere.
"I think it's a fair system. I don't see anything wrong with it and, at the end of the day, you're just looking out for their best interests.
"I've four children myself and I wouldn't like them going into a shop and being sold cigarettes."
The BBC spoke to several 16-year-olds who said they had no difficulty getting their hands on cigarettes.
They said they were more likely to be asked for identification in the city centre rather than in corner shops close to their homes.
"I walk in and ask for cigarettes and then they hit me for ID and I say: 'I don't have any'. Then they tell me they won't serve me," one said.
"Then I just get one of my friends, who's over 18, to go in and buy them for me."
Councillor Stephen Corr, from the council's environmental health committee which oversees the regulations, said: "We were quite surprised when we found out that 66 shops in Belfast did sell cigarettes to underage children in test purchases.
"It's quite a stark amount, given that there is annual update of information given to shop owners about what will happen to them if they sell cigarettes to young teenagers."
He accepted that it was easy to circumvent the law by getting older friends to buy cigarettes, but he said it was important that it was made as difficult as possible.
"A determined person who wants to go and get cigarettes will go and get them," he said.
"We know, as a council, that we can't put a 100% block on young people getting access to cigarettes.
"Most adult smokers, 77% of them, have been smoking since the age of 10, 11 or 12. That's the cycle we need to break."
The Stormont bill that is currently at committee stage, would allow traders to have their cigarette sales' licence revoked for a time.