Marian McGlinchey denies terrorism charges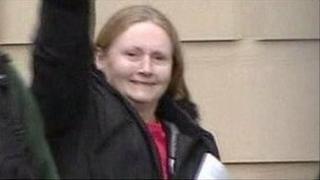 Veteran republican Marian McGlinchey has appeared in court to deny two separate terrorist offences.
The 59-year-old, also known as Marian Price, of Stockmans Lane in Belfast, pleaded not guilty to providing a mobile phone for a terrorist purpose.
The charge arose from the investigation into the murders of two soldiers at Massereene Barracks in Antrim in 2009.
She also denies a charge relating to a dissident republican Easter Sunday rally in Londonderry two years ago.
Belfast Crown Court was told that due to ill health, she would only be able to sit in the dock for short periods throughout the two trials.
The judge said the charges involving the mobile phone would be heard first and set a trial date for 21 November.
He said, however, that because of her health difficulties, the trial would only sit for half days with regular breaks.
The other trial relating to the cemetery commemoration, would follow afterwards with similar arrangements, the judge said.
She was released on continuing bail.
Mrs McGlinchey served a jail sentence along with her late sister Dolours Price for the 1973 IRA bomb attack on the Old Bailey in London.
Her licence was revoked in 2011 and she spent two years in custody before she was finally released earlier this year.