Stephen Carroll murder appeal: Father says witness 'a liar'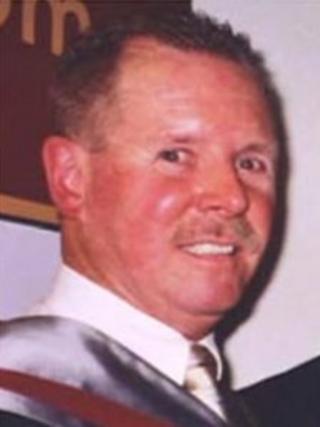 No-one should be jailed on the word of a key witness against one of the two men convicted of the murder of a police officer, his father has told a court.
He said he was "99% sure" his son gave a wrong account of his movements on the night Stephen Carroll was killed.
The man, who cannot be named for legal reasons, said his son was known as a Walter Mitty character and said: "He actually believes his own lies."
Brendan McConville and John Paul Wootton are appealing their conviction.
Constable Carroll was ambushed and shot dead as he responded to a 999 call at Lismore Manor, Craigavon, County Armagh, in March 2009.
McConville, of Glenholme Avenue in the town, is serving at least a 25-year-sentence for the murder.
Wootton, from Lurgan, received a minimum 14-year term.
Central to the prosecution case was the evidence of a man identified only as Witness M who claimed to have seen McConville in the area around the time of the killing.
Defence lawyers alleged that the man who branded his son a liar was arrested earlier this year and held by police in a bid to sabotage their case.
'No coercion'
He was ordered to attend the Court of Appeal to be questioned about his assessment of his son and about a covert surveillance operation said to have been carried out at his home.
He told a panel of judges that his home, phone and car were all bugged.
The man claimed that while in custody police tried to get him to retract everything in his affidavit.
Asked by counsel for McConville if he was prepared to do that, he replied: "No, it was the truth.
"I didn't want to see anybody in prison on the word of my son because I know what he's like."
He told the court he had not been coerced, threatened or forced into signing his statement.
Under cross-examination by counsel for the prosecution, he said it was not possible for his son to have made the journey he described on the night of the shooting.
Pressed further on that point, he added: "I'm 99% sure."
The man told how he threw away one mobile phone after he believed he has discovered it was bugged.
Another device discovered in the boot of his car was thrown down the toilet, he said.
He reiterated that he did not feel pressure to give evidence, but agreed that one meeting had been "hot and heavy".
The court heard of an incident at his home that led to him relocating.
Detailing further alleged consequences of his son's testimony, he said: "If I was up the town they would shout 'there's the tout's da'.
"Once in the bar this fella put his hand up like this, as if he had a gun."
He added: "My nerves are shattered."
At one stage prosecution counsel asked if he made things up when it suited him.
"No," the man replied.
But he agreed when it was put to him: "Would you accept you have some difficulty remembering specific events?"
The hearing continues.