Man remains critical after Londonderry gas explosion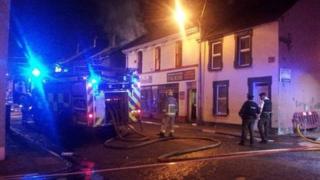 A man remains in a critical condition in hospital following a gas explosion in Derry on Monday night.
Trevor McNeill, 42, was transferred from Altnagelvin Hospital in the city to the Royal Victoria Hospital in Belfast to be treated for serious burns.
The explosion, which involved a gas cylinder, happened at a house in the Bond Street area at about 22:35 BST on Monday.
A number of homes were also evacuated.
Mr McNeill's mother Gloria has been to visit her son.
"I just hope everything goes ok. He's burned badly in the face and hands," she said.
"I didn't expect to see what I did see last night. It was shocking."
The fire service said Mr McNeill was out of the house by the time crews arrived.
A police spokesman said the PSNI and the fire service were working to ensure the surrounding area was safe.
DUP councillor Drew Thompson, who went to the scene, said: "One of the neighbours told me he saw a man running across the road on fire.
"We're not sure what happened, other than the gentlemen appeared to be in the home and there was a gas cylinder there exploded."