'Brick bandits' sold tonnes of debris from Village redevelopment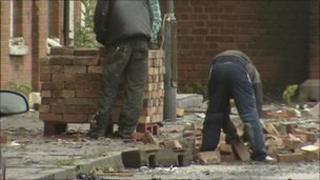 "Brick bandits" moved in and sold thousands of tonnes of used bricks and other materials from a major redevelopment zone in Belfast, according to workmen on the site.
More than 500 houses have been knocked down in the Village area of south Belfast over the past two years.
At the outset of the demolition project, the Housing Executive asked people to stay off the sites.
As work comes to an end, it has emerged that much of the rubble and building debris was moved and sold on for salvage by people living nearby.
These modern-day scavengers are known locally as "brick bandits".
One of them said: "I take the bricks down, clean them, put them on pallets and sell them.
"It is hard work. It's not lucrative but it puts food on the table. I get maybe £100 or £120 a pallet, depending on who is buying them."
The Village, like some other areas, would have had a reputation as being somewhere loyalist paramilitaries once held sway.
Ever mindful of this, perhaps, the demolition workers on the ground reached an arrangement with the "brick bandits" soon after the house clearance began.
They toss the buildings, and the bandits salvage and sell the bricks.
Said one workman: "We have to let them work away for the safety of our own men. We can't do anything about it. They take the bricks and I'm working here quite happy.
"We just have to work with them. To be right they should not be on the site, but at the same time we have to let them. We can't do anything about that."
According to one of the "bandits", the bricks are being taken as far as away as Dublin and even Kerry - and they are shipped to parts of England as well.
Asked if he had permission to remove the bricks, one said: "Sure they are only going to get dumped anyway. The party is nearly over. There are only a few houses left."
The Housing Executive owns the derelict houses and the redevelopment site after vesting it.
A spokesman said: "The removal of bricks and metals from vacant dwellings in redevelopment areas is an ongoing problem.
"In the Village area, staff in our south Belfast office are on-site on a daily basis and have been working closely with the PSNI and local community leaders to prevent this activity.
"As a result there have been over 50 cases sent to the PSNI in the last two years.
"The Housing Executive has never given approval for anyone to remove bricks from vacated houses in the Village area other than the designated contractor.
"The contractor proceeds with demolition, clearance and disposal of waste in line with health and safety legislation. Contractors build any gains from salvage into their price at tender stage."