Portadown knife killer Denver Cardwell 'likely to reoffend'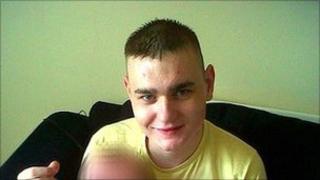 A County Armagh man who killed a young father with a knife and who has been assessed as "highly likely to reoffend", will be sentenced next week.
In an apparently unprovoked attack, Denver Cardwell, from Hartfield Avenue in Portadown, stabbed 21-year-old Marc Williamson in the neck with a kitchen knife in August 2011.
Earlier this year, he was found guilty of manslaughter.
He had originally been charged with murder.
On Tuesday, a probation officer told the sentencing judge that Cardwell was a long-term drug user who had refused to engage with support services offered to him and had failed a recent drug test in prison.
She said Cardwell, who has six previous convictions, had shown only limited empathy towards his victim, was willing to use weapons without giving any thought to the consequences and tended to react "in a totally disproportionate manner" when faced with any perceived threat.
Pressed by a defence barrister, she agreed that strict supervision could make it possible to manage him within the community.
She added, however, that the assessment of Cardwell posing a "significant risk" would remain.
The defence barrister asked a consultant clinical psychologist, who also gave evidence, if the risk posed would be alleviated if Cardwell engaged with a drug and alcohol treatment programme.
The psychologist did not comment directly on this suggestion but agreed that Cardwell's drug and alcohol use was a key factor in assessing the risk posed by him.
Judge Patrick Lynch said he would sentence Cardwell next Friday.