J Murray and Sons fined over employee's death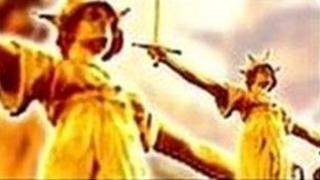 In only the second case of its kind, a Northern Ireland company has been fined for the corporate manslaughter of one of its employees.
Downpatrick Crown Court, sitting in Belfast, found that health and safety failings led to the unlawful death of Norman Porter, 47, in February 2012.
Mr Porter had either fallen or was dragged, having caught his clothing, into an animal feed mixing machine.
County Down firm J Murray & Sons Ltd was fined £100,000 plus £10,000 costs.
A similar charge against director James Daniel Murray, 69, of Burn Road, Ballygowan, was not proceeded with.
It followed his guilty plea on behalf of his animal feed mixing company.
'Terrible'
In an effort to safeguard the 16 company jobs, the court has allowed the firm to pay the money in annual instalments of £20,000.
The judge said the totally preventable and foreseeable death of Mr Porter was both "terrible and dreadful" and that he wanted to "re-emphasise that neither this nor any fine can, nor is it intended, to value the deceased's life in money".
The judge said while the fine "will do little to assuage" the family's deep sense of loss at his "needless death", it was the only penalty open to "mark the court's strong disapproval" of the company's gross and thoughtless negligence which resulted in the perfectly foreseeable dreadful injuries and death of Mr Porter.
The joint police and Health and Safety Executive investigation into the fatal incident, revealed that for three years, the blending machine, in which Mr Porter was mangled, had been operated without safety guards.
They were removed to allow raw ingredients to be added more easily, but at the same time, exposing the dangerous mixing blades of the machine.
The judge said the machine could have been "safely and cheaply modified to render it safe", and while no-one witnessed the accident, "it was plainly entirely foreseeable, indeed obvious, that a person either deliberately, or accidently entering the danger zone of the machine, would meet with serious injury or death".