Republican committee 'met abuse victims' - Gregory Campbell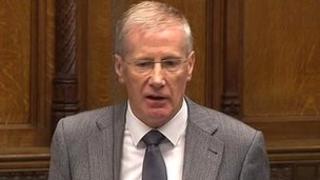 DUP MP Gregory Campbell has claimed a committee existed within the republican movement to deal with sex abuse claims.
The East Londonderry MP alleged that the committee existed 13 years ago and dealt with 100 sex abuse victims.
Mr Campbell told the House of Commons there had been "very prominent republicans involved in the committee".
However, in a later statement, Sinn Féin called the DUP MP's allegations "untrue and without basis in fact."
Mr Campbell made the comments to Secretary of State Theresa Villiers during Northern Ireland questions in the House of Commons on Wednesday.
"Will the secretary of state comment on information I have received about I fixed committee which existed within the republican movement during the year 2000 which dealt with almost 100 sex abuse victims?" Mr Campbell asked.
"Will she join with me in calling for those people to come forward and help those many innocent victims deal with the nightmare that they are still dealing with some 13 years on?"
In response, Ms Villiers said: "The honourable member raises some very grave matters and I would certainly urge anyone who has been a victim of abuse to approach the police with that information."
A Sinn Féin spokesperson said in a statement: "Gregory Campbell's claims about the existence of a 'fixed committee' dealing with cases of abuse in the year 2000 is untrue and without basis in fact."
BBC Northern Ireland's political editor Mark Devenport said that, although the court case was not mentioned in the Commons, Mr Campbell had made his remarks against a backdrop of bad feeling between the DUP and Sinn Féin over a sex abuse case involving a brother of the Sinn Féin leader.
Liam Adams, brother of Sinn Féin president Gerry Adams, was recently convicted of raping his own daughter, Áine, while she was a young girl in the 1970s.
In 2009, Gerry Adams told police that his brother had confessed to him in 2000 that he had sexually abused Áine Adams.
The political editor said: "Clearly we have the whole position at the moment of the attorney general reviewing the matter, particularly reviewing whether the police and prosecution were correct in their decision not to press charges of withholding information against Gerry Adams."
He added that while Mr Campbell's claims "may not be connected whatsoever" to the fall-out from the Liam Adams case, the issues raised by his remarks "highlight the whole area of how did republicans deal with sensitive matters like sex abuse in the years before they recognised the PSNI as the lawful authority to deal with this?".