Alan Law-Jenkins denies attempted murder of friend in knife attack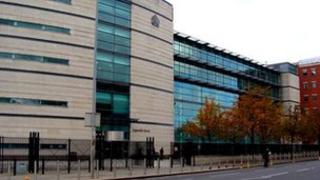 A man has gone on trial accused of stabbing his friend 10 times in an alleged unprovoked attack in County Antrim last year.
Alan Law-Jenkins, 28, of Fergus Court, Carrickfergus, is charged with the attempted murder of Paul Scott and possession of a knife in September 2012.
Belfast Crown Court was told the victim was so badly injured, a defibrillator implanted in his body went off, shocking him twice as he lay bleeding.
Mr Law-Jenkins denies the charges.
The court also heard that Mr Scott had named the defendant as his attacker in the immediate aftermath of the stabbing, as he sought help for his wounds.
Opening the case, a prosecution lawyer told the jury that, despite their age difference, Mr Scott said he and the accused were friends, although their friendship often "waxed and waned".
She said that on the day before the attack, Mr Law-Jenkins had called to the older man's home and they spent it playing video games.
However, in the earlier hours of the following morning Mr Scott, who had been in bed sleeping, refused to let the defendant into his house.
The lawyer said later that evening, as Mr Scott was leaving his home by a back gate, he saw Mr Law-Jenkins approach him, that he "looked normal" and thought he was going to shake his hand.
However, the lawyer added that Mr Scott then "felt Jenkins poke him, as he described it, three times in the stomach".
The court heard that Mr Law-Jenkins then moved behind Mr Scott, who, although he felt nothing, soon realised he had been stabbed.
The prosecution lawyer said the victim "felt weak and sank to his knees".
She said that Mr Scott asked the defendant 'why are you doing this?' before he was stabbed again, this time in the upper right hand side of his chest.
Despite being on the ground, Mr Scott got himself in a defensive position, while the accused allegedly kept lunging at him with what he took to be a Swiss army knife.
The court heard that the victim managed to get his feet and stagger into his house, where he called for his sister to get help, and naming his attacker.
Mr Law-Jenkins was arrested later at his grandmother's home.
During interview, he denied being involved in any attack.
The court also heard that the knife said to have been used in the attack has not been recovered.
The trial is expected to last up to two weeks.