Boy, 15, cleared of attempting to murder his mother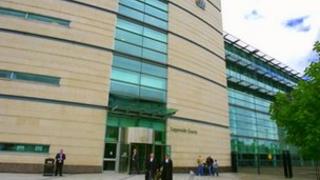 A Belfast teenager who stabbed his mother in the back in June 2012 has been cleared of her attempted murder.
Belfast Crown Court Judge Gordon Kerr QC directed the jury to acquit the boy after the prosecution offered no further evidence on the murder bid.
In turn, however, he also directed the jury to convict him of unlawfully and maliciously causing his mother grievous bodily harm with intent to do so.
The 15-year-old pleaded guilty to the lesser charge on Thursday.
The boy cannot be named because of his age.
A prosecution lawyer had told the court that the then 14-year-old had raised the alarm himself on 17 June last year, and that when police arrived he came out of the front door, telling officers: "I have just stabbed my mother".
And then after being cautioned that he did not have to say anything, he added: "I just lost it".
The prosecution said the teenager also told officers that the knife he had used had broken, and that it was in the front bedroom.
Lesser charge
Meanwhile, his mother had managed to make her way to a neighbour's home, where she was found and rushed to hospital.
She had two lacerations, one of which was a stab wound to the back of her shoulder, and which had collapsed her lung.
The prosecution successfully applied for the additional wounding count to be added to the indictment. A defence lawyer then asked for this second charge to be put to the teenager, at which stage he pleaded guilty.
The guilty plea, to a lesser charge, was acceptable to the prosecution, and in the circumstances they would not be offering any further evidence on the attempted murder charge.