Burglar caught after kicking woman in south Belfast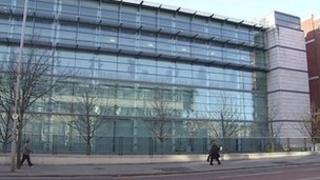 A judge has praised two passersby who helped police catch a burglar moments after he had kicked a woman in the head in her south Belfast home.
Peter Cowan, of no fixed address, fled empty-handed from the Cromwell Road flat where he had kicked the woman three times, a court heard.
He pleaded guilty to burglary with intent to steal and common assault.
Cowan had 68 previous convictions including assault, criminal damage and one count of threat to kill.
A prosecution barrister told Belfast Crown Court how a couple were in their flat in March this year when they heard a loud bang at about 11pm.
"When the woman opened the living-room door there was a tall and well-built man standing there. She was scared and started to scream," he said.
Cowan, 25, who had a hood up over his head and the coat zipped up to hide his face, shouted at her: "Give me the money. I want money."
'Grabbed by hair'
She said she did not have any money, but her partner said to her that there was money in another room.
As she went tried to escape, the lawyer said Cowan "grabbed her by the hair and pulled her to the ground" and kicked her three times in the back of her head.
"Cowan lost his grip and she managed to run down the stairs, out the front door to the end of the street where she told two male passersby what happened," added the prosecution barrister.
As Cowan ran past them, the two men gave chase and shouted at a police patrol to stop him.
Cowan was arrested and later charged with burglary with intent to steal and one charge of common assault.
Deplorable record
A defence barrister acknowledged that Cowan had a "deplorable record" and had been abusing alcohol since the age of 12.
Judge McFarland said the burglary and assault on the victim had been a "frightening experience" for her.
He said the two passersby had helped police to catch Cowan as he fled and were worthy of praise for their actions.
The judge sentenced Cowan to two years and six months, with one year to be spent in custody and 18 months on licence.