£96.9m Nama judgement against south Armagh man John McCann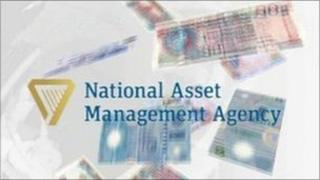 A Nama company has secured judgment orders of more than 114m euros (£96.9m) against a south Armagh businessman over loan and guarantee arrangements.
A judge in Dublin granted the orders against John McCann, of Loughross Road, in Crossmaglen.
The order was granted on the application of Andrew Fitzpatrick, for National Asset Loan Management (NALM).
A judge said he was satisfied NALM was entitled to judgment in the sums sought - 54.7m euros (£46.3m) and £50.6m.
Nama, the National Assets Management Agency, was set up by the Irish government to purge problem loans from bailed out banks.
The actions arose from loan and guarantee facilities involving Allied Irish Banks, Anglo Irish Bank and Bank of Ireland which had been taken over by Nama.
Nama claimed Mr McCann was liable under a 2006 guarantee for £50m arising from a facility advanced by Bank of Ireland to Broadway Capital Ltd to assist in financing the purchase of the Ropewalk shopping centre at Nuneaton, Warwickshire.
It also sought repayment of about 10.6m euros (£9m) arising from Anglo facilities offered in June 2009 and judgment for more than 39m euros (£33m) arising from several AIB loan facilities issued for purposes including purchase of lands and apartments in Dublin, sites in Dundalk, County Louth and in County Monaghan and to fund equity on investment property acquisition.
It claimed judgment for another 5.3m euros under indemnity and guarantee obligations that it alleged Mr McCann had entered into with AIB concerning the liabilities of Castleway International Developments Ltd and Castleway Property Management Ltd.