82% 'support organ donation changes' in Northern Ireland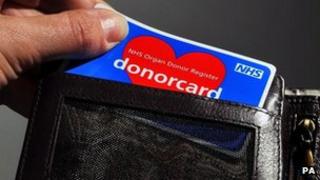 More than 80% of respondents to consultation on organ donation changes would support a new opt-out system, an assembly member has said.
The change would require people to opt out of donation rather than opt in.
Currently people commit by signing a donor card but this system means that two out of three people are not registered.
Assembly member Jo-Anne Dobson, who supports an opt-out system, said 82.42% of the 1,366 respondents backed it.
Among them were several charities, political parties and local councils. More than 1,300 of the response came from members of the public.
In all, 82.69% of people who responded supported a change to the current law.
The proposed changes would continue to consider the wishes of the family and safeguard children and young people under 18, those who do not have the capacity to consent, those who are not normally resident in Northern Ireland and those whose identity is unknown.
"As chair of the All Party Group on Organ Donation I am pleased that the issue has been raised and debated regularly at our meetings and that opportunity has been afforded to those in favour, as well as those who hold reservations towards a soft opt-out system, to address and engage with the members of the committee," Ms Dobson said.
She said the next stage would be to "proceed to formal drafting of the Bill and the feedback provided by the 1,366 consultation responses will be invaluable to me in this process".
A total of 123 transplants took place in 2012/13 in Northern Ireland, and 190 people were on the transplant waiting list as of March 2013
About 15 people die each year while waiting for a transplant.