Nude Turner Prize model criticised in Northern Ireland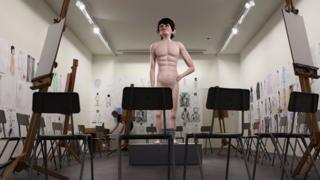 A Turner Prize sculpture of a nude man has caused controversy among some schools in Northern Ireland.
The prestigious exhibition opened to the public in Londonderry on Wednesday morning, the first time it has been taken outside of England.
The entries are on show at former Army barracks at Ebrington. Derry is the UK City of Culture 2013.
David Shrigley's naked model has been avoided by a number of schools because it shows a man urinating into a bucket.
Glasgow-based Shrigley is best known for his humorous line drawings, but also makes sculptures, photographs, paintings and animated films.
His work, which combines jokes and commentary, can be found on greeting cards, in books and in magazines, as well as in galleries.
Schools from across Northern Ireland have been invited to the exhibition.
Ann Murray, the principal of Oakgrove Integrated Primary School in Derry, said: "This particular piece of art is too much for some students.
"We have younger people at the school, so I'd rather have their parents take them to see Shrigley's piece rather than the school.
"We talked about Shrigley's piece, but we avoided that particular gallery.
"Some parents may find it really offensive."
'Socially conservative society'
Jack Malvern, the arts correspondent with The Times newspaper, said: "I personally don't think it's offensive.
"What we have here is teachers who are worried about parents' potential reactions rather than their actual reactions.
"If one parent says no then the entire class is excluded. It's a shame.
"There is nothing offensive about this, it's humorous.
"When I was speaking to people in Derry they told me that you have to take into consideration local sensitivities. They said they are a more socially conservative society."
Denis Feeney, vice principal of St John's Primary School in Derry, said: "We didn't go to the Shrigley piece because it just wasn't appropriate.
"The Turner experience was fantastic all round, but we thought it was just a bit much."
Established in 1984, the Turner Prize is awarded to a contemporary artist under 50, living, working or born in Britain, who is judged to have put on the best exhibition of the last 12 months.
The winner will receive £25,000 and the result will be announced on 2 December.
The other shortlisted artists will each receive £5,000.