Shopping centre owned by Newry man repossessed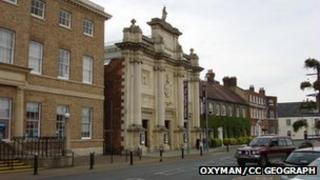 A US investment fund has effectively repossessed a shopping centre in England that was owned by a Newry property investor.
The Vancouver Centre in King's Lynn was ultimately owned by Ciaran Murdock.
The centre was bought in 2007 with a loan from Bank of Scotland Ireland (BoSI), but that £69m loan was sold to Oaktree Capital in 2012.
An administrator was appointed after negotiations aimed at restructuring the loan failed.
The administrator's report states that the centre is now valued at just £34m.
The ownership structure of the centre involved several London registered companies and a Northern Ireland registered firm, Hollybrook Investments.
The shopping centre continues to trade and Mr Murdock's other property interests, which have borrowings from a range of other banks, are unaffected.
Oaktree took control of the loan as part of a deal with Lloyds Bank, which owned BoSI.
BoSI, which was focused on Irish property lending, is being wound down after running up enormous losses.
Oaktree spent a reported £260m on buying the BoSI loans which had an original, pre-crash, value of £625m.
The Vancouver Centre loan ended up being held by a Luxembourg-based subsidiary of Oaktree called HRGT Debtco.
A spokesperson for Mr Murdock said: "Hollybrook Investments is the property manager of the Vancouver Quarter shopping centre and this role remains unaffected by the recent restructuring undertaken by Oaktree Capital, the US private equity company.
"This process, which is nearing completion, was part of an agreed refinancing plan and Hollybrook Investments will continue to manage the Shopping Centre which is trading successfully."