Grangemouth closure poses 'no threat' to NI fuel supplies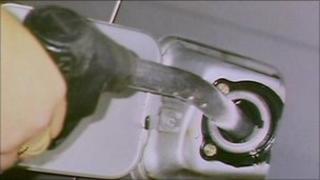 The Northern Ireland Oil Federation (NIOF) has said there are no threats to fuel supplies in Northern Ireland despite questions about the future of the Grangemouth refinery in Scotland.
The refinery supplies most of Northern Ireland's liquid fuels such as petrol, diesel and heating oil.
A petrochemical plant that adjoins the refinery is to close, the owner Ineos has announced.
There are "numerous options" to supply fuel into NI, said a NIOF spokesman.
Ineos chairman and founder Jim Ratcliffe had said at the weekend that if the petrochemical plant closed it was likely the refinery would go as well.
The closure of the plant is linked to an industrial dispute at the facility.
On Wednesday Ineos said a decision on whether to fully restart the refinery - which has been operating at much reduced capacity due to the dispute - would be taken once the "threat of strike action" had been removed.
Contingency plans
David Blevings from NIOF said: "Even if the refinery was to close there are numerous options to supply fuel into NI and wholesalers would make other supply arrangements to cover demand.
"The resilience of the oil sector at a local level is excellent and with current mild weather oil stocks are plentiful."
BP, which runs one of three oil terminals at Belfast harbour, said they were hoping to talk to Ineos to understand what their intentions are and that they have contingency plans in place.
The other main fuel importers in Northern Ireland are Dublin-based DCC Energy and the US firm NuStar, who both have facilities at Belfast harbour.
There is also an import facility at Maydown in Londonderry that is part-owned by Cookstown-based Lissan Coal Company.