Ceremony to remember UFF double murder of Belfast council workers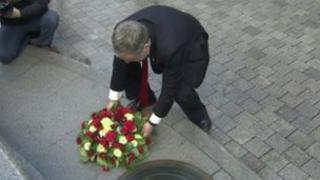 The 20th anniversary of the double murder of two council workers in west Belfast has been marked by their trade union colleagues.
James Cameron and Mark Rodgers were shot dead at their council depot on Kennedy Way on 26 October 1993.
The loyalist paramilitary group, the Ulster Freedom Fighters (UFF), killed them. No-one has been convicted of the murders.
It happened three days after the IRA bombed a shop on the Shankill Road.
Mr Rodgers, 28, and Mr Cameron, 54, were both Catholics based at the depot. Five other workers were wounded in the attack.
Two people were later jailed in connection with the attack.
A memorial ceremony took place on Friday at the Workers Memorial Fountain in the grounds of Belfast City Hall.
Afterwards, James Cameron's son, Colum, who was 12 when his father was killed, said: "Nothing was gained through the massacre".
"I don't feel bitterness against the people that done it but I do hope for justice some day, as these people still walk the streets," he said.
"Twenty years ago our life changed dramatically. They just didn't take a person that morning, they took my father, a husband, a brother and a son. Also with the Rodgers family the same thing.
"Our family will never be the same. There was a hole left when my father was killed that can never be replaced. "
Connie Rodgers, a sister of Mark Rodgers, said it had been important to have held the memorial event.
"It's very sad being here today, but I think it needed to be done. I think the men in Kennedy Way had to be remembered," she said.
"We wouldn't like to go back to the Troubles and the dark days. I have children of my own, and I wouldn't like to be in the position that my mum was in 20 years ago. I wouldn't like to lose a child to a gunman.
"Our family has been devastated by the loss of Mark, absolutely devastated. But we have had to work together to get through it to support my mum."
SIPTU president Jack O'Connor laid a wreath in remembrance of the two men.
The gun attack took place amid heightened sectarian tensions across Northern Ireland in the wake of the Shankill bomb.
Ten people were killed in the bombing, including IRA member Thomas Begley, who died when the device he was carrying exploded prematurely.