Albert Johnston Stewart accused of defrauding woman of over £30,000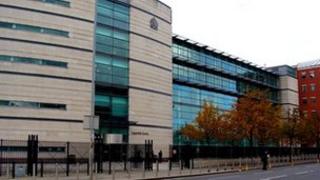 A Belfast man is to go on trial accused of carrying out scams involving gold, property and the stock market, all targeting the same woman.
Albert Johnston Stewart, of Knockwood Crescent, faces four charges of fraud by false representation. The alleged scams involve more than £30,000.
He is alleged to have told a woman he planned to buy gold from a jewellers that had gone out of business.
The judge agreed to have him returned for trial on a date to be fixed.
According to the charges against Mr Stewart, the woman was told she would receive a very favourable return on a £13,000 investment with the accused.
A second count centres on a claim that he told the woman he was buying a repossessed house for £27,000 and she could purchase it from him if an initial £4,000 was paid.
Mr Stewart is also accused of dishonestly claiming he had a contact in the London Stock Market who had advised him the share price in an energy drinks company was set to rise.
It is alleged that he told the woman she would receive a better return if £10,500 was invested in the firm - enabling her to cover the outstanding amount on the repossessed house.
A fourth charge relates to claims that he duped the woman by telling her he needed a £5,000 loan to go to Portugal to sort out a dispute with his business partner.
All of the alleged offences were committed in the Belfast area between July and August 2011.
Stewart appeared before the city's magistrates' court today for a preliminary enquiry hearing to establish if he has a case to answer.
The judge granted a prosecution application to have him returned for trial at Belfast Crown Court.
Mr Stewart was remanded in custody to appear again when that hearing gets under way.