Natasha McShane: Justice has been served says mother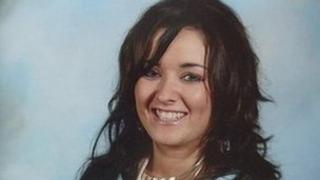 The mother of a County Armagh woman attacked in Chicago believes justice has been served after a man was convicted of trying to kill her.
Natasha McShane, 27, and her friend were attacked and robbed in the early hours of 23 April, 2010. Ms McShane has been left brain damaged.
Heriberto Viramontes, 34, was convicted of attempted murder at Cook County Criminal Court in the US city.
When asked if justice had been done, her mother said: "Absolutely".
Sheila McShane was speaking to the Chicago Sun-Times, following the five-day trial that ended earlier this week.
A statement written by Natasha's brother, Conor, was read out to the press.
Prison term
"This crime against my sister has changed my life forever. It has had a devastating impact on our entire family," the statement said.
Conor McShane said that Natasha's life had been ruined by the attack. She has been left unable to talk or walk unaided.
Stacy Jurich, who was also attacked with Ms McShane, said that the period since the incident had been the most difficult in her life.
Viramontes faces between six and 120 years in prison.
In July, his accomplice Marcy Cruz was jailed for 22 years after pleading guilty to two counts of attempted murder over the attack.