NI space industry ready for liftoff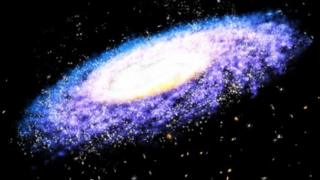 Northern Ireland's fledgling space industry has taken a small but significant step towards competing in a global marketplace worth billions of pounds.
The Northern Ireland Space Special Interest Group (NISSIG) was formed during the summer to aid efforts by local companies to benefit from what the government's Science and Technology Committee describes as "one of our economy's fastest growing sectors".
NISSIG chairman Robert Hill said they anticipate that the space sector will make another giant leap over the next few years and they want Northern Ireland firms to profit from this.
"The numbers are big - if you look to the year 2030, the total revenue generated by space is meant to be in the region of about £400bn," he said.
"The UK has set ambitious targets to capture 10% of that by the year 2030, so that's £40bn."
He said the group was set up to raise awareness of opportunities and contracts that may be available to interested firms.
While the space age is often associated with a bygone era of moon landings and Cold War standoffs, the group believes this rapid expansion of the space industry will come from a number of different enterprises.
"One is space travel, there's also the exploration of space, but probably the biggest thing that's driving it is the data that satellites are sending down," said Leslie Orr.
"We've already got sat-navs in cars, but it's used for an amazing amount of applications."
Dr Orr, who is also manager of ADS NI, a trade organisation representing the aerospace, defence, security and space industries, said the response from Northern Ireland companies to the group's formation had been "amazing".
"Already companies are reporting £27m revenue every year from space, which was a surprise to us," he said.
"Our goal is to grow that further and get more companies to win more contacts."
'Massive opportunities'
Dr Orr said Northern Ireland could build on its "great history of aerospace, with Bombardier being here for 100 years", and said the space industry offered opportunities for a wide range of industries.
"In the space industry there are two clear divides; one is what's known as the 'upstream', which is the technology used to shoot the rockets up into space, building and designing satellite hardware, with precision engineering companies making the equipment," he said.
"On the other side, or 'downstream', there are companies which use the data being sent down by the satellites, so many IT firms can benefit as well."
While this downstream side of the business has traditionally been dominated by television broadcasting, telecommunications and satellite navigation, a recent Invest Northern Ireland report on the current state of the space industry suggested there were "massive new opportunities emerging in a range of business-to-business applications".
Robert Hill said the Invest NI survey was designed to "create a baseline before moving forward".
"Those companies who were interviewed for the report say they expect space-related turnover to double or triple," he said.
Mr Hill, who is also director of the Northern Ireland Space Office, said he was confident that the skills base would exist to meet demand for high-tech jobs over the next 20 years or so.
"Every space adventure starts with engineers and technicians," he said.
"We have a young, talented workforce, we have two universities pumping out world-class graduates, and the UK Space Agency is taking a real interest in what's going on here."
Northern Ireland is already leading the way in one area of education, he said, as school children can study Space Science Technology, a level two vocational qualification equivalent to GCSE.
"It's the first qualification of its type in Europe that looks at the innovation and entrepreneurship skills that can be developed by engaging with the space sector.
"In physics classes, you might learn about celestial motion and how the universe works, but you don't really hear about the technology used to make those discoveries or how they can become engineers and develop them.
"In geography, you might learn about the earth and the atmosphere, but what we're doing is showing how they can use satellites in their community to, for example, track taxis or toxic waste."
Mr Hill said he hoped the course would encourage more young people to consider careers in science or engineering.
"The thing about space is that it's not something you can confine into a single sector like agriculture, aerospace, transport - it's an enabler for all those sectors and it's getting young people to realise that space can be a solution to many problems from that unique advantage point above our planet," he said.
And Dr Orr said the location of US firms such as Aerojet in east Belfast - which builds motors to power rockets and satellite positioning systems - suggested there was a "cluster that we can build an industry around".
"In County Tyrone, there are companies using satellite devices to track major pieces of equipment, there are companies in north Antrim measuring the size of fields so the right amount of fertiliser is spread, and the technology has hundreds of applications in fields like mining, shipping and oil and gas," he said.