EU bank may finance University of Ulster Belfast campus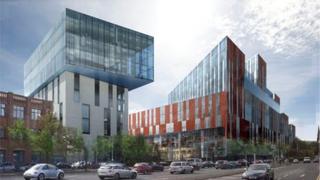 The University of Ulster's new Belfast campus could be part-financed by the European Investment Bank (EIB) to the tune of £150m.
The EIB - the European Union's bank - is evaluating the project and if agreed it would be one of its most significant ever projects in Northern Ireland.
The money would be a loan, similar to a mortgage, and repaid over 25 years.
The Luxembourg-based bank and the university both confirmed discussions are taking place.
However, approval has yet to be agreed.
"We have not finished examining the project," a spokesman for the bank said.
The bank estimates the total cost of the new campus at £305m.
It involves the construction of three buildings near the city centre at Frederick Street, Donegall Street and Great Patrick Street.
Around 12,000 students would share the new facilities on courses relocated from Jordanstown.
It is expected the construction of the new campus will begin in 2015 and be completed by 2018.