Belfast's Royal Courts of Justice bomb alert false alarm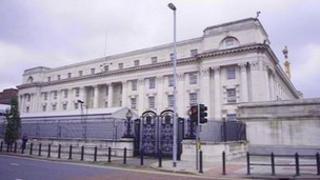 A security alert at the Royal Courts of Justice complex in Belfast was a false alarm.
The complex on Chichester Street, which houses the High Court and the Court of Appeal, was evacuated for a time while a package addressed to a member of staff was examined.
However, it was found to be harmless.
Police are on high alert following a recent series of letter bombs sent to prominent figures in Northern Ireland.
A package addressed to Secretary of State Theresa Villiers was made safe at Stormont Castle on Tuesday.
On Friday, two letter bombs addressed to senior police officers were intercepted at postal sorting offices, while on Monday, a similar device was sent to the offices of the Public Prosecution Service in Londonderry.
Dissident republicans are being blamed.