Final escaped macaque monkey returned to Belfast Zoo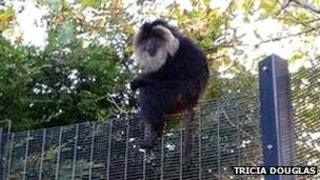 All six macaque monkeys that escaped from Belfast Zoo more than a week ago have now been returned to their enclosure.
The last "at large" macaque, Roxy, was spotted by a member of the public in their garden, not far from the zoo.
A team from the zoo, including a vet, caught the monkey and she will soon be reunited with the rest of the group.
Security at the macaque enclosure is to be reviewed.
The monkeys jumped an electric fence and made a break for freedom on 21 October.
One of them was later captured by zoo keepers in the grounds of Belfast Castle.
Another was shot with a tranquiliser dart by zoo staff when it was found in a tree at Gideon's Green in Newtownabbey.