Edward Cambridge refused bail over attack on disabled woman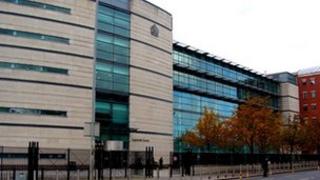 A County Antrim man who is accused of attacking a disabled woman in her own home has been remanded into custody because he has nowhere else to go.
Edward Stuart Cambridge is charged with inflicting grievous bodily harm with intent on the woman during a burglary at her Shore Road flat in Newtownabbey.
Mr Cambridge, originally from Green End, Newtownabbey, but now of no fixed address, is also accused of making a threat to kill, theft and burglary.
The woman was attacked in June.
Belfast Magistrates Court heard that police had been putting further questions to 22-year-old Mr Cambridge, but as he has no suitable address to be released to, he was remanded into custody.
At a previous court hearing, it was alleged by the prosecution that the accused beat the woman so severely after breaking into her flat that she needed a brain scan.
It was further alleged that police traced a 999 call to the woman's flat and found her face and nightdress covered in blood.
The woman, who suffers mobility problems, had sustained an open wound to her nose caused by her glasses being punched into her face.
She told officers that a man had broken in but before he made any demands for money, he hit her from behind and continued the assault which left her with two black eyes, severe swelling, and welts to her thigh from being hit by a belt or strap.
Throughout the assault, Cambridge was demanding money and threatening to kill her, it was claimed.
Mr Cambridge was arrested a short time after the assault and was found to be carrying a woman's studded belt with hair on it, allegedly matching that of the victim.
At the bail hearing on Saturday, a defence solicitor conceded his client had no address so the judge remanded the accused into custody to appear again on Tuesday.