High Court blocks second John Alex Kane bankruptcy bid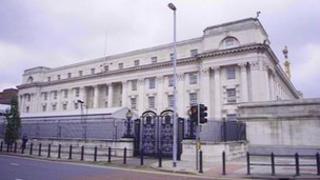 The High Court in Belfast has blocked a second attempt by a County Longford businessman to declare himself bankrupt in Northern Ireland.
The court ruled that John Alex Kane does not have his centre of main interests (COMI) in Northern Ireland.
That means the Belfast court lacks the jurisdiction to bankrupt him.
The court heard that Mr Kane is being pursued by authorities in the Republic of Ireland over a 5m euro (£4.2m) tax bill.
Under UK insolvency law the period of bankruptcy typically lasts for a year, but in the Republic of Ireland, a much more onerous term of up to 12 years applies - though new rules are reducing that term.
The judge said that there would have been "considerable advantages to Mr Kane" if he could persuade the Northern Ireland court that it had jurisdiction over him.
'Voluminous evidence'
In 2009, Mr Kane, a car dealer, was jailed in the Republic of Ireland for contempt of court after misleading the Revenue and the courts about the extent of his assets.
His continued lack of co-operation led to an arrest warrant being issued in July 2010, at which point he left the country.
He had himself bankrupted in Belfast in June 2012 saying that as he was living in County Fermanagh, claiming job seekers allowance and had a NI bank account his COMI was in Northern Ireland.
That was overturned following an application by the Irish Revenue Commissioners in November 2012.
He made a fresh application in September but the judge found that "uncontroverted and voluminous" evidence from the Revenue showed that in June 2012 his COMI was still in Longford.
That evidence included an article in the Irish Mail on Sunday from September 2012 headlined "The €10m tax dodgers banned from selling cars… still selling cars".
The reporter described how Mr Kane tried to sell her a car and how he told her of his business in Granard, County Longford.
The judge said that Mr Kane's move to Northern Ireland "for self-serving purposes amounted only to a change in his personal circumstances rather than a change in his COMI".