John Compton's Northern Ireland health service legacy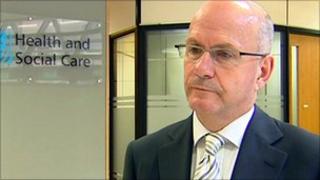 At 64, John Compton has every right to hang up his surgical pen and notepad.
He has spent 40 years working in health and social care and, like others his age, should be crafting how to spend his retirement rather than planning how to spend the health service budget in Northern Ireland.
But what is the legacy he leaves behind as he retires as chief executive of Northern Ireland's Health and Social Care Board?
Bigger challenge
And what does the future hold for services after Mr Compton leaves his post in March?
Back in December 2011 his Transforming Your Care document spelled out the biggest reform of the service in Northern Ireland in decades. No mean task.
His vision was to shift care from hospitals to the community where services would be better tailored to suit the individual.
Albeit slowly, that is happening. People can expect to receive minor treatments at their local health centre or GP surgery.
Waiting lists for some minor treatments are definitely shorter; services tailored at preventing illnesses are becoming more tangible.
But what about the elephant in the room, the bigger challenge of reducing the number of hospitals?
That has not happened. Well, not exactly.
Closing hospitals was never going to get the backing of any health minister so John Compton closed services in certain hospitals and created hospital networks instead.
Care homes
His argument was that it is better for people to have to travel further if it means they benefit from greater expertise.
So instead of duplicating services, eventually, Northern Ireland will have centres of excellence.
Take Belfast. Once the home of three A&E departments, there is now effectively one major unit at the Royal Victoria Hospital with the Mater operating a much smaller department.
The looming winter pressures will prove whether or not the plan is foolproof.
Perhaps his biggest achievement is changing the way we think about what the health service should provide.
For example, instead of spending money on dilapidated buildings, like hospitals, Mr Compton has argued that money should go to services instead. Services that help save lives.
While he is winning the battle over running a seven days a week health service, the same cannot be said of his approach to the potential closure of care homes.
He has argued that is what people want but the jury is still out on the issue.
By the time he retires there will be fewer hospital beds and wards. He maintains this will not affect staffing numbers.
Many health professionals may miss him but it seems clear the unions will not.
Saying that, John Compton may not miss the unions either.