Joseph Reynolds murder: Arrested man is released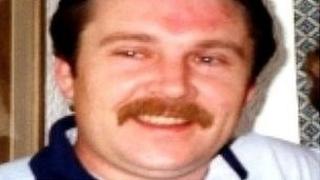 A 41-year-old man who was arrested by police investigating the murder of Joseph Reynolds in Belfast 20 years ago has been released unconditionally.
Mr Reynolds, a 40-year-old from west Belfast, was travelling to work when his van was ambushed by UVF gunmen on Sydenham Road on 12 October 1993.
Last month, the police announced they were reopening the investigation into Mr Reynolds' murder.
A number of arrests have been made since, but no-one has been charged.
The 41-year-old man was detained in east Belfast on Tuesday morning but was released after questioning.
Mr Reynolds, who was a Catholic and a subcontractor painter, was on his way to Shorts aircraft factory with a number of workmates, when their vehicle was attacked.
Three others were injured in the attack.
Their van had stopped at a pedestrian crossing on Sydenham Road at 08:25 BST, to allow two men to cross.
The men, who were wearing blue boiler suits and flat caps, walked across the road at Fraser Street, but when they drew level with the van, they opened fire with a handgun and a rifle.