Liam Adams 'should get at least 15 years' for raping daughter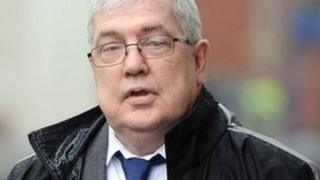 Liam Adams "should be jailed for at least 15 years" for raping and sexually abusing his daughter Áine over 30 years ago, a court has heard.
The younger brother of Sinn Féin president Gerry Adams was back in court a month after he was found guilty.
The judge said she would deliver sentence as soon as she could.
The prosecution said "there are no mitigating factors" and that "this is a case where the starting point should be one of 15 years".
Adams, 58, is already being held under high security for his own protection.
The father of six, from Bernagh Drive, Belfast, was found guilty of ten offences, including rape and gross indecency, against his daughter, Áine Adams, who is now 40.
The abuse was committed over a six-year period between 1977 and 1983, when she was aged between four and nine.
The judge also heard that while the defence do not "take issue" with the sentencing range, Adams, who still denies any wrongdoing, is an unwell man.
Following submissions from both defence and prosecution lawyers, the judge told Adams that she would deliver his sentence "as expeditiously" as she could after considering all matters, including further clarifications from the probation service.