Robbers break into church and threaten priest with hammer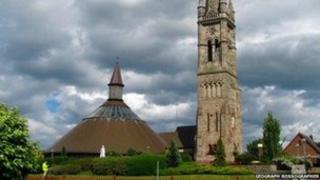 A priest has been left badly shaken after robbers went into a Catholic church in County Down and threatened him with a hammer.
The pair then forced the parish priest, Fr Peter O'Kane, into the parochial house beside St Colmcille's Church, High Street, Holywood.
The incident happened at about 18:20 GMT on Tuesday.
The robbers left with money and a mobile phone. The police have appealed for information.
Fr O'Kane said: "I was praying in the church at 6.10pm when two men approached me and forcibly brought me into the sacristy and then over to the office and the parochial house.
"I managed to escape from them when we returned to the sacristy.
"They made off with a sum of money, and the police were then alerted."
Fr Eddie McGee, a spokesman for the Down and Connor diocese, said his colleague had been left very distressed by the incident, and condemned recent attacks on clergy.
"There appears to be over the past number of weeks a growing tendency of attacks on clergy who are very vulnerable. These attacks are very, very distressing for those concerned."
Mayor of North Down, Councillor Andrew Muir, said local people were appalled at what happened.
"The church is such a welcoming place. So for this to occur saddens people," he said.
"I'm really hoping people will come forward to the police with information around this matter so that they can catch these two people who did this terrible act."