Angels in pink flip flops - guardians of Omagh's streets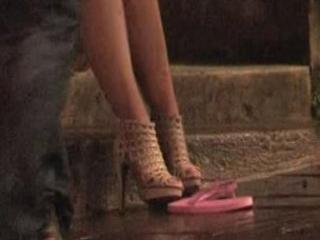 Revellers making their way home after a Saturday night out in Omagh, County Tyrone, are being offered a shelter from the rain, a free hot drink and even pink flip flops.
The idea is to help ensure that people get home safely.
It is also about reducing high levels of anti-social behaviour on the streets.
The volunteers, known as street angels, are part of a response to the deaths of two young people in the town.
Jason McGovern died after being attacked on New Year's Eve 2012. Darren McBrearty was killed in August 2013.
Since their deaths, fewer people have been socialising in the bars and clubs.
At a public meeting to discuss a response to the tragedies, Darren McBrearty's sister Michelle McGirr signed up to volunteer for the street angels scheme.
"Something was telling me I have to do it for the sake of Darren to make Omagh a safer place to be," she said.
"I know it wasn't meant to happen to Darren, but I think this is a good idea and, if we get people behind us and get their backing, it will work. It will make Omagh a safer place."
On one such cold night in Omagh, hot drinks were appreciated by those waiting for their lift, but what about the pink flip flops?
Attempting to negotiate the steep cobbled street in stilettos at the end of the night can prove a bit too much of a challenge.
Girls who decided to ditch their heels and walk home in bare feet were grateful for the offer of the free footwear, even though they were hardly the height of fashion.
The initiative is run by the Policing and Community Safety Partnership in the town. So far they have trained 14 volunteers and another 15 are hoping to join.
Cllr Sorcha McAnespie is vice chair of Omagh District Council and has volunteered as a street angel.
She said she hoped their presence would encourage people to socialise in the town.
"There's a need for this in every town which has a vibrant nightlife and Omagh has a vibrant nightlife," she said. "We want to ensure that everybody has a great experience and comes back."
The scheme has the support of local bars, clubs, taxi firms and fast food outlets.
Oonagh McGirr who owns Sally's bar and nightclub said providing a safe environment was a priority.
"Safety to me is very important. We've worked extremely hard to make sure that all of our customers who come into my premises are looked after to the highest level, that they are in a controlled environment," she said.
"Anything that works towards making Omagh even safer for the night-time economy and for during the day can only be a very, very good thing."
That confidence is shared at another popular night spot, Main Street. It has plans to expand its bars and restaurants over the next 12 months.
A new nightclub and hotel development will cater for more than 4,000 people.
Restaurant and nightclub manager Jackie Black said she felt encouraged by the street angels initiative.
"Omagh has had a bad press, an unfair press at times, however on Main Street, we are very positive about the future," she said.
The PSNI said street angels were a welcome addition to efforts to offer a safe environment at night in Omagh.
They said it would be a support to police officers.